How To Delete Virtual Machine On VMware Fusion
This tutorial provides all the steps required to delete an existing Virtual Machine from the VMware Fusion.
Step 1 - View Virtual Machines
Click Windows on the Main Menu and click Virtual Machine Library as shown in Fig 1.

It will show all the virtual machines available in VMware Fusion as shown in Fig 2.

Step 2 - Delete Virtual Machine
Now select and right-click the Virtual Machine to be deleted. It will show options to delete the Virtual Machine as shown in Fig 3.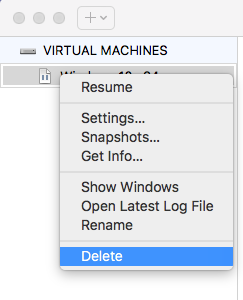 Now click the Delete Button as highlighted in Fig 3. It will show the delete options as shown in Fig 4.

Option 1 - Move to Trash - It will delete the virtual machine and move all the files associated with it to Trash.
Option 2 - Cancel - Cancel the delete operation to keep the virtual machine.
Option 3 - Keep File - Delete the virtual machine from VMware Fusion's list of virtual machines. It won't delete the virtual machine files. We can add it later when required.
Summary
This tutorial provided the steps required to delete Virtual Machine on VMware Fusion.
Discussion Forum by DISQUS
---